Our In-HouseAbilities
Reliable Clothing Pvt. Ltd. has all the manufacturing capabilities in-house and we have an equally skilled and talented workforce to transform raw textiles into aesthetic and appealing garments.

A team of in-house designers and fashion creators constantly create new and latest designs to suit the ever-changing and ever-demanding client's requirements. With access to the latest computer technologies and fashion trends, we ensure that our products are visually appealing and easily acceptable to customers of varied needs and requirements. Innovation and creation are the buzzwords around which Reliable Clothing Pvt. Ltd. thrives and grows.

Sampling is an integral part of any garment industry. We manage a team of highly skilled and experienced craftsmen who have their eyes set on the minutest of details. Our in-house sampling department has modern machines and state-of-the-art technologies for the development of quality samples for our customers. Our craftsmen develop excellent quality samples as per the styles chosen by the customers, including colors and specifications.

To showcase our exquisite and latest designs, Reliable Clothing Pvt. Ltd. has its own modern and fully well-decorated showroom. All the latest and sophisticated garments are aesthetically displayed for the discerning buyers to choose from.

Reliable Clothing Pvt. Ltd. boasts of the latest in Computer-Aided Design. Our in-house pattern & maker makers incorporate their vast experience and talent to utilize the fabric in the best manner possible and reduce the input costs thereby giving you the advantage of reduced costs.

The fabric is cut according to the specifications of the design to the nearest millimeter. The skilled hands of our craftsman ensure that the fabric is cut strictly as per plan so that you get the perfect fitting garments. We have the capacity to cut 7000 to 8000 pieces per day. All the cut parts are individually labeled and bundled together for issue to the sewing lines.

Print adds value to a garment and gives it a trendy look. We do all kinds of print in-house and make sure its done in minimum costs. We have skilled workforce for the same who are also updated with the latest trends in garment print through special training. Design making, Screen exposing and developments are all done in-house under one roof.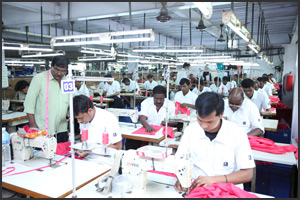 To take care of sewing needs, we have a setup of 750 machines and a 1200 strong workforce. These are all geared to transform the cut fabric into a masterpiece with their in-depth knowledge of machine and fabric. Strict quality norms put in place by the company ensure that each garment passes all the international standards. Our in-house training and monitoring of the workforce ensures that they remain motivated and challenged to deliver only the best.

Embroidery gives the garment a royal touch. We employ state-of-the-art Tajima machine which takes care of embroidery needs and gives us the product that is best as well as long-lasting. All samples are developed in-house on the latest Toyota sampling machine.

Washing is also done in-house to give our garments the latest trendy washed look. A choice of the best machines in this field and the highest quality materials utilized in the washing process gives the garments a unique trendy look.

Quality Assurance Department ensures that each product passes through a strict scrutiny and check at each stage of production before being sent for packing. Our quality managers ensure that each product going out of the factory is perfect in all respects. Special care is taken to see that the finishing is as per the client's requirements. After a grueling cycle of checks and inspections, the garments are ready to be packed and exported to our esteemed clients.

Our containers are packed in-house with great care to avoid pilferage or damage to our goods. We adhere to strict norms while packing and stuffing goods in the containers. The containers are sealed at the factory premises. This gives us the added advantage of trust from our clients who value us so much for our in-house capabilities and potentials.